One of the funny things about redefining the traditional family, is that even though people are now very open minded to families of all sorts, they are no more open minded about gender-identity colours. Every gift we have received comes in the same colours – blue for our son, pink for our daughter. Outfits, teddy bear outfits, blankets, towels, bibs, etc. Don't get me wrong, I like blue and pink, but everyone needs a little variety in their wardrobe, don't you think?
Even more surprising is the reaction of people when we deviate from this colour-scheme. When our daughter is styling baby blue, people stop us and say:
"Twins?
"Yes."
"Two boys?"
"No, a boy and a girl."
"But she's wearing blue!"
It's as if we put her in white after Labour Day.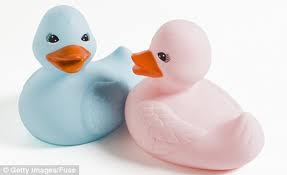 More people have gotten upset over the colours of the babies' outfits than they have about the babies having two dads. On one hand, that shows how far we have come in redefining the traditional parents. On the other hand, I guess even as societal values make drastic shifts, fashion expectations remain absolute.
How did pink become 'female' and blue 'male' anyway? And how come adults – who wear all sorts of colours themselves – come to expect babies to always have their sex identified by colour? 
[Editor's Note: The Smithsonian online Magazine wrote an interesting little piece on the evolution of gendered colours for babies. And Cracked.com recently broke down gender stereotypes in an amusing editorial.]