There's nothing like the most minute of actions – in this case, losing your graduate thesis research notes – to set a musical into motion. Angelwalk Theatre's Ordinary Days follows in the proud tradition of intersecting character arcs, happenstance circumstances and the 21st century quarter-life crisis. What better way to celebrate a musical about a series of randomly connected events than to send Angelwalk on their very own MT Scavenger Hunt?!

1) The most ridiculous prop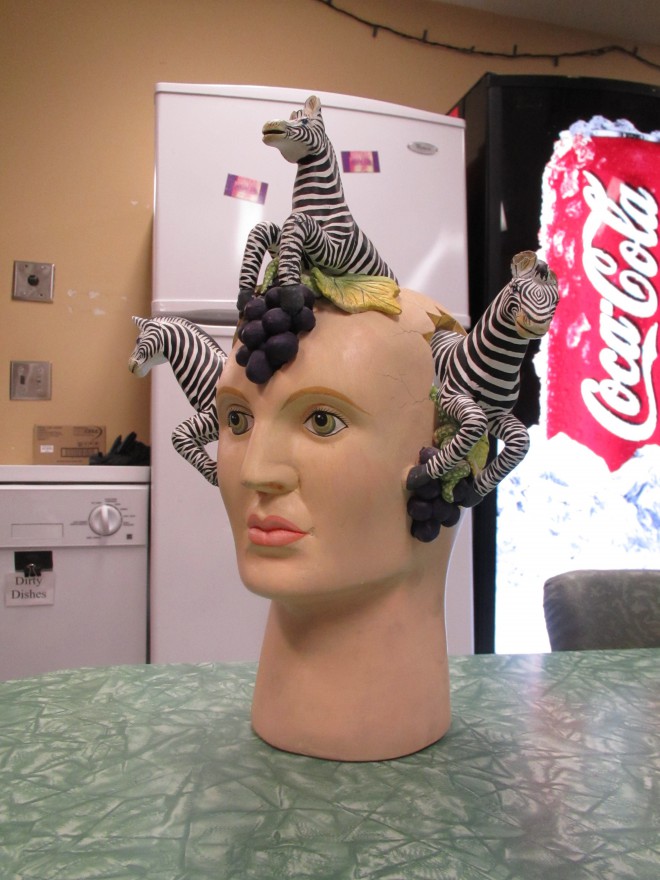 This prop lived with us for over two weeks in rehearsal and was a part of the many items that Jason unpacks after the move. We think that it pretty well speaks for itself.
2) The most sublime costume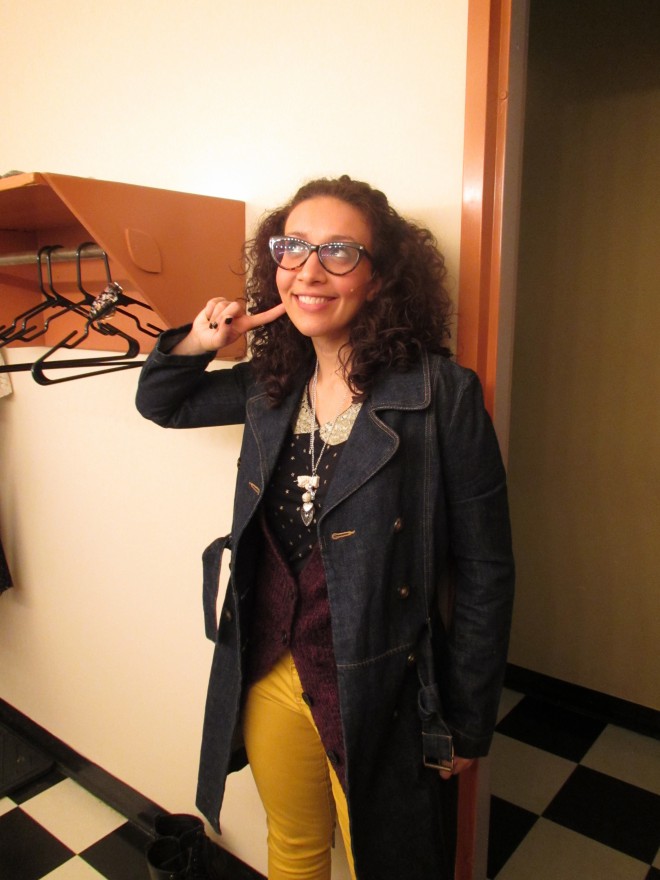 Connie, as Deb in Ordinary Days, is so eclectic and we absolutely loved her costume. It speaks to both her and her character, and is just a taste of the amazing costumes that Scott gave us for the show.
3) A backstage ritual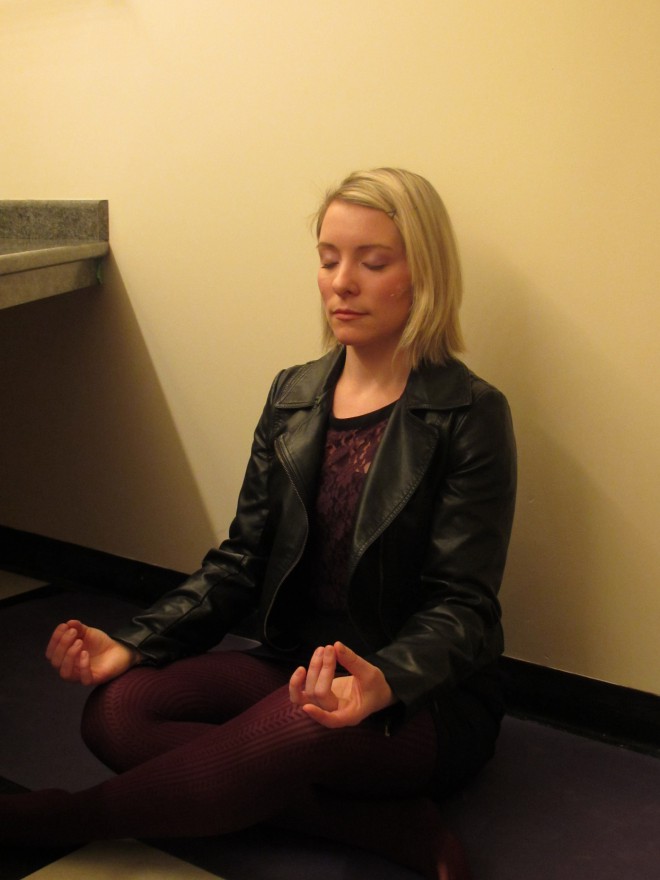 We have several backstage rituals, many of which involve the cast making up new twitter hashtags for each other and using them as the names on the dressing room doors. However, we felt that Clara (who plays Claire) listening to some relaxing music on her yoga mat was particularly apropos of the show, as she is 'calm'.
4) Your favourite moment in Ordinary Days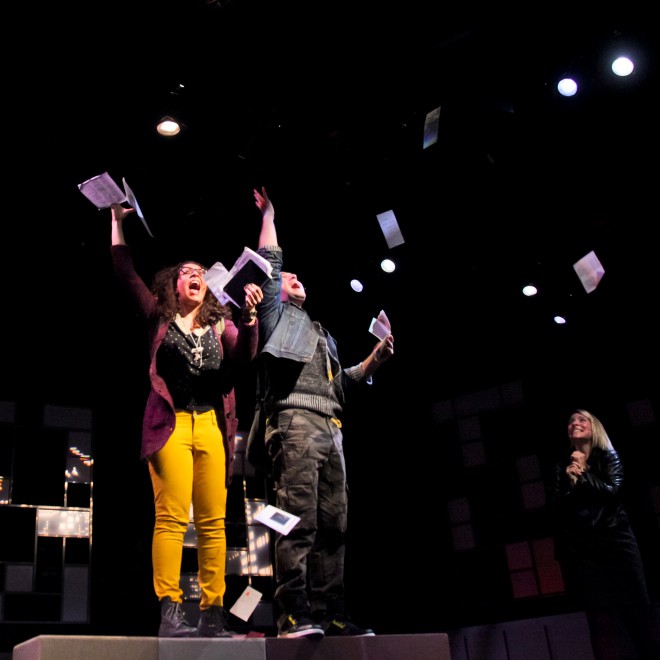 This magical moment in Ordinary Days is referred to admirably by the cast as 'fly' and takes place during the "Rooftop Duet / Falling" number. We're not going to give away anything else because it's one of those moments that you have to experience for yourself.
5) What gets your company through tech week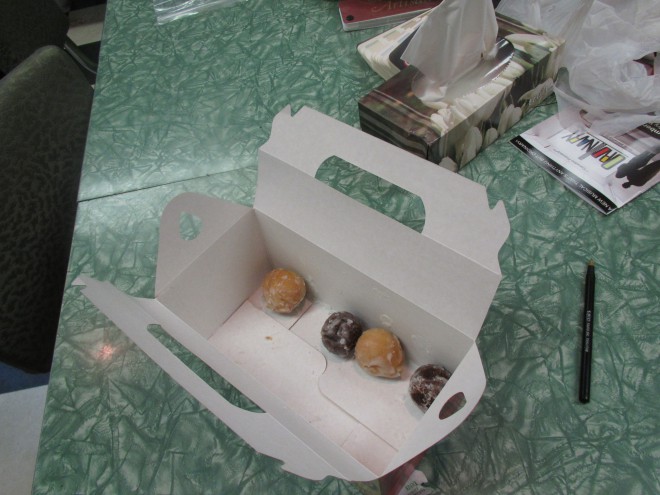 The remnants of timbits that Brian bought us the night before we opened. You can't see them (cause we ate them), but there were lots of honey crullers on top and we play a game to see who gets to eat them.
6) The most random item in your green room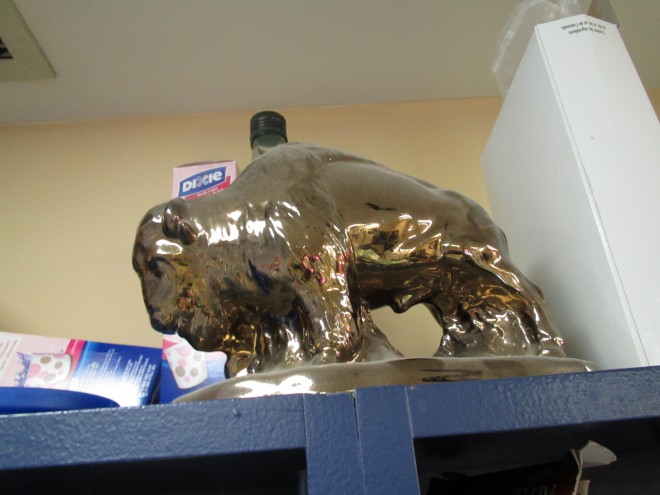 We found this on the top shelf in the green room and felt that a gold bison was pretty random for a green room. Especially where it was!
BONUS POINTS: Your theatre's ghost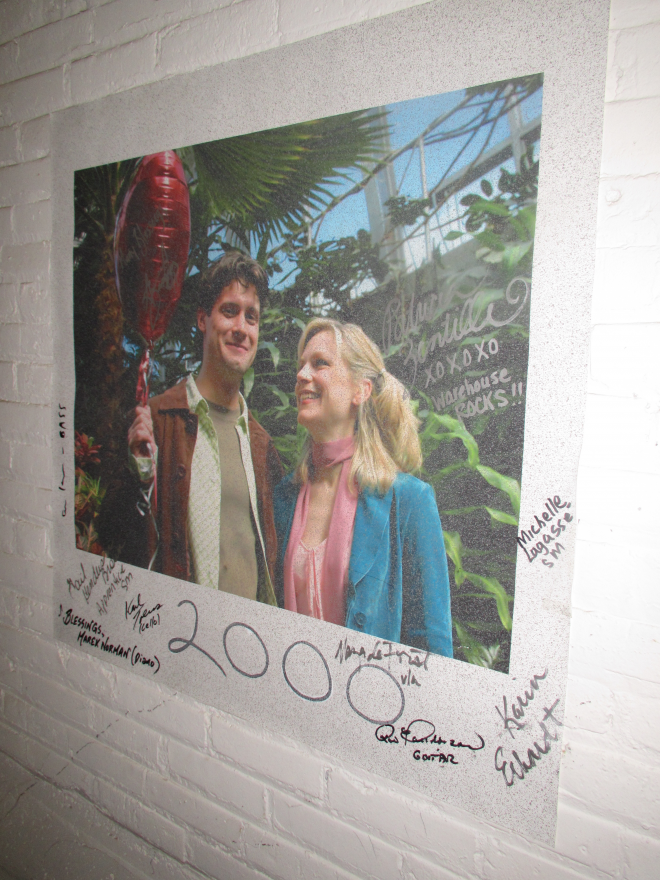 We like to think about this as spirits rather than ghosts. This is a picture of Adam Brazier and Patricia Zentilli from when they did The Last Five Years (a show that Angelwalk Theatre produced in its inaugural season) at MTC and we couldn't help but feel that these two amazing Canadian musical theatre artists were with us as we opened a musical that is very similar stylistically to The Last Five Years. Bonus Question to Musical Notes readers: Does anyone know where this picture is at the MTC Warehouse?
---
Ordinary Days runs November 29 to December 9, 2012 at the Toronto Centre for the Arts. The show features Justin Bott, Jay Davis, Connie Manfredi and Clara Scott and is directed by Kayla Gordon.
Tickets are $25-$45 and can be purchased at www.angelwalk.ca/TICKETS_box_office.html.
For more info: www.angelwalk.ca/