Friends of Acting Up Stage
---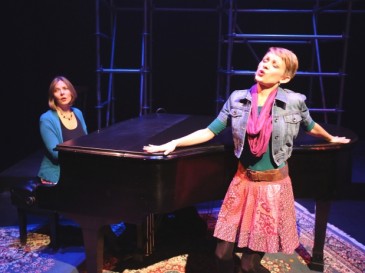 by Mitchell Marcus 
For the last two years, we have been sending our production of Do You Want What I Have Got? A Craigslist Cantata (originally produced in co-production with Factory Theatre) out on tour. Last year we played a two week run in Calgary at Alberta Theatre Projects/High Performance Rodeo and three weeks in Edmonton at the Citadel Theatre. But this month, we are delighted to be packing our bags and travelling to our nation's capital, to perform the musical at the National Arts Centre. 
Touring a musical is very different than producing locally. As we put the finishing touches on the logistics and begin our Toronto rehearsals before travelling to Ottawa on November 10, we thought we would share some insight into the touring process. 
When we tour, we are being presented. When we run a show in Toronto, we are producing. What do these semantics mean? Well, in Toronto, we are responsible for marketing our production. We have a box office target to hit and we rely on you (our audience!) to help cover the costs of the musical. When we tour, we are being presented by other organizations. This means that they cover our costs (or most of them) to remount the production and tour it to their city. But they are responsible to sell the tickets, and they keep the money made at the box office. This makes it a very low risk scenario for our company. Our costs are covered, and we get to focus on creating the best work we can without worrying about how the attendance will be. 
When we tour, we add an additional department to our organization – Company Management. When we do a show in Toronto, our performers are self-sufficient. They tend to live in their own homes and they are responsible to get themselves to the theatre. On tour however, the rules change. There are hotels to arrange, flights or train tickets to book, baggage allowances to consider, transport to and from the venue for every rehearsal and performance, and city resources (medical centres, restaurants, etc.) to scope out. Paul in our office brilliantly arranges all of these details, helping cast members to feel well cared for while they are away from home. 
Food is expensive! When we produce in Toronto, we are not required to provide meals for our cast or creative team. However, when we are on tour, everyone receives $55 per day as a per diem. In the case of Craigslist, that is an extra $7,000 of breakfast, lunches and dinners! 
On the technical side, touring can be a puzzle. Each venue is a different size with its own specific attributes when it comes to stage dimensions, lighting positions and audience relationship to the stage. What happens when you are playing on a 50' wide stage vs. a 30' wide stage? How does the show change when the audience sits lower than the stage vs. when the seats rake downwards and audiences see the stage floor? What happens when some rooms are intimate enough for acoustic sound and some require amplification? This is a fascinating puzzle. This year we will have our third variation on our A Craigslist Cantata set to meet the specification of the National Arts Centre. And – just to add to the fun – we also have to make sure that whatever we create de-constructs in the most economical way possible to transport from city to city. 
Touring is super fun. Even with all of its challenges, one of the highlights of my tenure at Acting Up Stage has been watching one of our productions in a different city. It's a joy to meet new audiences through a familiar musical and to know that we are helping to bring the Acting Up Stage experience to people across the country. 
If you happen to be in Ottawa, don't miss our production of Do You Want What I Have Got? A Craigslist Cantata, running at the National Arts Centre from November 12-22. 1-888-991-2787. 
---
 
The Poem / The Song
See Acting Up Stage veteran Thom Allison in Art of Time Ensemble's The Poem / The Song. Art of Time explores the depths of poetry's relationship to song in a wide-ranging program including readings by Margaret Atwood, the poetry of Walt Whitman, T.S. Eliot and music by George Crumb, Leonard Cohen, Franz Liszt and more. 
November 7-8 – Harbourfront Centre Theatre, Toronto – artoftimeensemble.com or 416-973-4000
---

Spoon River
UnCovered past star Mike Ross takes the helm in this stunning musical. Not to be missed. Edgar Lee Masters' seminal poems of the dead are brought to vibrant life in this musical adaptation. Immerse yourself in the world of Spoon River, a slice of rural America, as residents of the town narrate their own epitaphs, telling of their lives, loves, losses, and truths.
Until November 15 – The Young Centre (Soulpepper), Toronto –soulpepper.ca or 416–866-8666
---

Book of Mormon
Mirvish brings back the smash hit! Nine 2011 Tony Awards® say it's the Best Musical of the Year. Vogue says "It's the best musical of the last 25 years." And The New York Times says, "It's the best musical of this century." It's The Book of Mormon, the Broadway phenomenon from South Park creators Trey Parker and Matt Stone and Avenue Q co-creator Robert Lopez. The Daily Show's Jon Stewart calls it, "A crown­ing achievement. So good, it makes me angry."
Until November 30 – Princess of Wales Theatre, Toronto – mirvish.com or 416-593-4142
---
---
---
 
Musical Works in Concert at SummerWorks
Check out some new musical theatre works this summer at the SummerWorks Festival. All three shows in the Musical Works in Concert series are definitely worth checking out. See the following Acting Up Stage Company alumni: Jeff Madden (UnCovered: Sting & The Police), Arlene Duncan (Caroline, or Change, Once On This Island), Alexis Gordon (Banks Prize winner 2012-2013), Chris Tsujiuchi (Banks Prize music director, 2013-2014) in Recurring John; Tara Litvack (Falsettos assistant music director) with Animal Pharmacy: A Medicine Show; and Lezlie Wade (Elegies: A Song Cycle director) with The Remarkable Journey of Prince Jen.
August 10 – 11 – Various locations, Toronto – summerworks.ca or 416-907-0468
---

Crazy For You
See Acting Up Stage alumni Stephen Patterson and Steve Ross in this critically acclaimed production of Crazy For You. Sent to Deadrock, Nevada, to foreclose on a derelict theatre, banker Bobby Child falls for its owner's daughter, Polly Baker. Can he reconcile the demands of duty and love – and his own dreams of dancing? "I Got Rhythm," "Nice Work if You Can Get It" and "Someone to Watch Over Me" are just some of the gems in this dynamic musical's dazzling score.
Now on stage until October 12 – Festival Theatre, Stratford Festival– stratfordfestival.ca or 1-800-567-1600
---

Book of Mormon
Mirvish brings back the smash hit! Nine 2011 Tony Awards® say it's the Best Musical of the Year. Vogue says "It's the best musical of the last 25 years." And The New York Times says, "It's the best musical of this century." It's The Book of Mormon, the Broadway phenomenon from South Park creators Trey Parker and Matt Stone and Avenue Q co-creator Robert Lopez. The Daily Show's Jon Stewart calls it, "A crown­ing achievement. So good, it makes me angry."
Beings September 16 – Princess of Wales Theatre, Toronto – mirvish.com or 416-593-4142
---
---
By Laura Paduch

Meet the Acting Up Stage Company team at the office: a chance to get to know the people truly behind the scenes!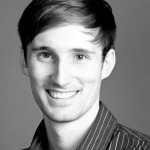 Paul Beauchamp – Producer & Operations Manager
Paul is a Toronto based producer and arts administrator and has been with Acting Up Stage Company for the past 2 years. In his role as Producer & Operations Manager, Paul helps to run the day to day operations of the company, as well as implement the short-term visioning of the company's activity. To list all the tasks and duties this entails would be daunting. Paul's multitasking abilities and endless efficiency make it hard to imagine Acting Up without him, but before beginning in this position in July of 2012, Paul previously was engaged as the apprentice stage manager on Caroline, or Change in January 2012, and initially as a volunteer stage manager for 2010's One Song Glory.
After graduating from Ryerson University's Performance Production program, Paul gained extensive stage management experience, working with such companies as Mirvish Productions, Tarragon Theatre, Soulpepper and, of course, Acting Up. With this valuable experience, Paul worked towards transitioning fully to producing and arts administration. These long term goals of his were realized when he was hired as the 2012 Luminato Festival's Production Coordinator.
Currently, in addition to his docket at Acting Up Stage Company, Paul is the General Manager of the Artists Mentoring Youth (AMY) Project, a barrier-free, arts-education organization that enables young women who face various barriers (social, economic, physical, racial) to tell their own unique story. It's an incredible amount of work, but it is worth the pay-off of seeing how profound and important this work is to the program graduates each year.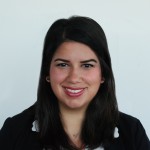 Deniz Kepenek – Audience Relationship Manager
Acting Up Stage Company is excited to welcome our newest staff member to the team! Deniz joins Acting Up as our Audience Relationship Manager. She will direct the approach to develop and maintain the company's relationships with our audience, and the theatre-going community of Toronto. This includes managing communication plans, organizing events and engagement activities, providing insight and direction for the company's marketing strategies and overseeing web and social media activities.
Deniz is an established arts administrator and specializes in performing arts marketing and communication strategies. She has very recently moved to Toronto from Montreal, where she was engaged by the Quebec Drama Federation, Quebec's English-language theatre service organization. Originally from Istanbul, Turkey, Deniz graduated from Emerson College in Boston, MA with a degree in Marketing Communications. It was while there when Deniz developed her capacities in arts administration, working positions in marketing and sales, publicity, development and front-of-house management for various theatre companies. Presently, Deniz also is a marketing and communications consultant for Beautiful City Theatre, an up-and-coming Montreal-based theatre company.
Deniz believes modern musical theatre breaks the rules of traditional theatre, and is an entirely different approach to bringing stories to life. It brings light to socially, politically, economically, and environmentally relevant issues, and offers alternative perspectives:"Modern musical theatre is one that makes me think and it's one that boils my blood".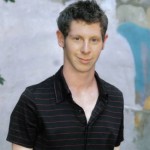 Ari Weinberg – Metcalf Foundation Intern Artistic Director
Ari's position as Intern Artistic Director with Acting Up is made possible by the generosity of the Metcalf Foundation. Through this opportunity, Ari is able to shadow Mitchell Marcus, assisting with the tasks and work necessary to prepare for the upcoming company activities for 2014/15. He is also overseeing One Song Glory and contributing to the Syd and Shirley Banks Prize program. Prior to this position with Acting Up, Ari worked with the company as a Producing Assistant in the spring of 2014.
Ari graduated from Sheridan College's Music Theatre Performance Program in 2006. Since then, he has worked extensively as an actor, including credits with Stratford Festival, the Royal Manitoba Theatre Centre, the Globe Theatre (Regina) and Drayton Entertainment. He has also begun exploring direction; he co-directed Godspell for Theatre Sheridan and recently directed Hugh and I at the 2014 Toronto Fringe Festival. He was the recipient of a Professional Theatre Training Grant from Theatre Ontario in 2013, to assistant direct Salt-Water Moon at the Thousand Islands Playhouse with Ashlie Corcoran, and to be mentored by Steven Schipper, Artistic Director of the Royal Manitoba Centre.
In addition to his position with Acting Up Stage, Ari is also the Internship Advisor for students in their third year of the Music Theatre Program at Sheridan College, and a teaching artist for the Stratford Festival. While he works towards his life goal of becoming the artistic director of the Stratford Festival, Ari is inspirited to learn from as many people in the industry that he can, and to continue to grow as an actor, director and arts administrator.
Ari believes modern musical theatre means, "using the art form of musical theatre to illuminate contemporary themes and deepen the meaning of our shared experiences. Modern musicals inspire far more personal reflection than the classic musical theatre, it makes us think about who we are, the world we live and how we live our lives".
Our team members were each asked to describe their favourite musical theatre experiences, ever:
"I can't choose, so I'm going to have to describe two! As an audience member, one of my favourite experiences was watching Patti LuPone on stage as Mrs. Lovett in Sweeney Todd. On the flip side of things, as a theatre professional, my favourite moment came during the run of Caroline, or Change. I truly fell in love with the show and the cast when I worked backstage on this production."                                                                                           
                                                                                                          – Paul Beauchamp
"I feel like it's so hard to pick a favourite musical theatre experience, let alone describe my favourite one!…When I was 9 years old, I was on a family vacation in London when my parents took me to see the English production of the French-Canadian Notre-Dame de Paris. I was a little girl at the time, and was in love with the Disney animated movie of the story. Little did I know, the musical was nothing like the movie. Interesting enough, the musical ended up being more appealing to me than the movie. The dancing was beautiful, the acting and singing were breathtaking; most importantly, the music was seriously out of this world. I never knew such beauty could exist, and was even more amazed to see that everyone else around me – including my parents and all the strangers in the house – were experiencing similar emotions. It felt great to be surrounded by that energy."                                 
                                                                                                          – Deniz Kepenek
"1. Seeing Patti Lupone in Gypsy. I am a big Patti fan and her performance was everything I had ever envisioned Mama Rose to be. 2. Seeing Into The Woods at Canadian Stage in 1995. The first time I was introduced to the work of Stephen Sondheim. The cast was filled with phenomenal actor/singers and the set was a combination of ramps, stairs, platforms and giant projection screens, it instantly became my favourite musical… it still is."
                                                                                                          – Ari Weinberg
---