Friends of Acting Up Stage
---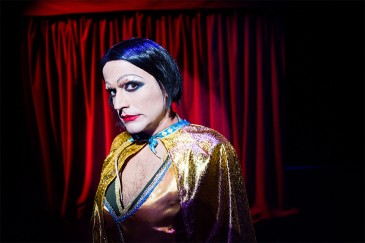 by Nir Paldi, compiled and edited by Carly Maga
The co-creator, co-writer, and lead performer of Ballad of the Burning Star, Nir Paldi, has spoken often about the show, from its premiere at the 2013 Edinburgh Fringe Festival through its ensuing worldwide tours. Here are some quotes we've found to shine some light on key aspects of the show, which uses a cabaret and chorus to explore the Israeli-Palestinian conflict using Paldi's personal stories, the real stories of others, and historical events.
---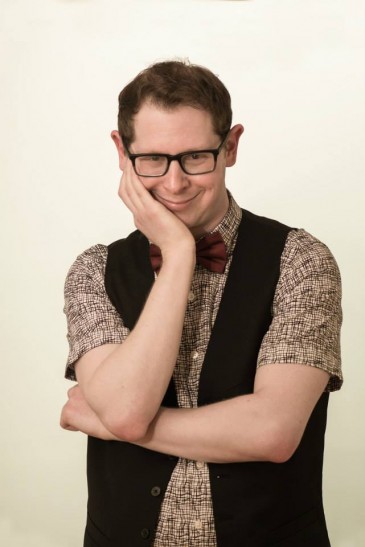 by Ari Weinberg
On November 19, 2013 I received a pretty cryptic e-mail from Mitchell Marcus asking me what my schedule was like for the following March. I responded that I had a few projects I was working on but that they were all pretty part-time. Mitchell replied with a message that was even more cryptic: "There might be an opportunity at Acting Up, not sure yet. Will keep you posted."
By the end of January, 2014 I had signed on to become Acting Up's Producing Assistant for March through to the end of May. A couple of weeks into that initial contract Mitchell came to me with a proposal- he wanted to apply for a Performing Arts Internship grant from the Metcalf Foundation for me to become AUSC's Intern Artistic Director. We received the grant and I re-joined the company in my new position on July 1st, 2014.
On March 4, 2015 it was announced that I will become Winnipeg Jewish Theatre's next Artistic Director this June, a dream job that would not have been possible without the support and education I received at Acting Up.
Mitchell Marcus is an incredible mentor. His passion for theatre combined with his rigorous administrative skills make him a wealth of knowledge. He is also determined to help cultivate future arts leaders and provides them with infinite resources  through AUSC. 
Here are some of the things I've learnt over the last year:
Always be curious. Ask questions. Ask more questions. Don't be afraid to look at a project or task from another angle/perspective, something fresh might be revealed. Curiosity can lead to a task being completed more thoroughly, it can also lead to new possibilities.
Be bold. Thinking outside the box is something to aspire to. Making choices that are not always what people expect from can push projects to a more exciting place and will illicit more dynamic responses.
A dream team is an actual thing. I have been so fortunate to work with so many wonderful people- Paul, Carly and Laura in the office and the entire cast, crew and creative team on The Wild Party, plus all the artists in UnCovered and all the trainers and participants involved with One Song Glory. Acting Up attracts first-rate individuals and that stems from the company's philosophy of providing meaningful artistic experience… building a brand of excellence is hard to do, but when time is invested into hiring the right people it pays off.
Though my time at AUSC concludes at the end of May, the experiences I have had here are ones I will never forget. I'm so thankful to the Metcalf Foundation for the opportunity to work with such an outstanding team; I'm hoping all the incredible memories I've made here will keep me warm during the Winnipeg winter.
---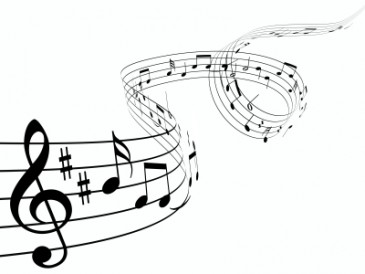 by Mitchell Marcus
As some of our "Friends of Acting Up Stage" know, we have been steadily working towards developing a collection of original Canadian musicals for future production. While it's always a great pleasure bringing Canadian premieres like The Wild Party and Caroline, or Change to Toronto audiences, some of our most impactful productions have been original Canadian works like Do You Want What I Have Got? A Craigslist Cantata and Ride The Cyclone. We are eager to nurture and support more innovative and talented Canadian artists as they write terrific new musical pieces, and to help share those musicals with the world. 
With several new musical projects in the hopper, I was absolutely delighted to be in New York two weeks ago for the reading of one of them. About 18 months ago, we started talking to Neil Bartram and Brian Hill about writing a new musical for us. Both Canadians, Neil is a composer/lyricist and Brian is a bookwriter. This prolific duo have had their work produced on Broadway, at Canadian Stage, Charlottetown Festival, Montreal's Segal Centre, Chicago Shakespeare Theater, Goodspeed amongst many others. Highlights of their catalogue of work includes The Story of My Life, Les Belles Soeurs, The Theory of Relativity, The Adventures of Pinocchio, Not Wanted On The Voyage and the upcoming musical adaptation of Ray Bradbury's Something Wicked This Way Comes, and the stage adaptation of Disney's Bedknobs and Broomsticks. 
After lots of dialogue and possibilities about what they might create for Acting Up Stage Company, Neil and Brian devised an original work titled You Are Here. Set in 1969 during the 4 days that Apollo 11 was on the moon and returning back to Earth, You Are Here looks at a middle aged woman who walks out on her life suddenly. Through her eyes, we are transported into her adventure as she contemplates her future, experiences new escapades and tries to reconcile her dreams with her reality. It's a musical written for a single performer who plays all of the characters. 
Perhaps most excitingly, a little over a year ago we confirmed the Signature Theatre as a commissioning and development partner. The Signature Theatre is a Tony Award-winning theatre company in Arlington, Virginia that attracts over 80 thousand patrons each year. They have been a leader in the development of original musical theatre over the last two decades. The thrill of their involvement – in addition to their expertise and stellar reputation – is the anticipation of having this new Canadian musical play in both Toronto and Virginia when it is ready for its premiere, helping to extend its reach and maximize its contribution to the international musical theatre cannon. 
On March 5 we gathered in New York City for a reading of the first draft. The brilliant Drama Desk Award-winning and Tony Award-nominated actor, Barbara Walsh, took part so we could hear the piece read/sung aloud. Needless to say it was a thrilling evening, giving Acting Up Stage, the Signature Theatre and the writers the chance to hear the work and to discuss next steps. 
We are very excited to share more of this beautiful piece with our supporters as we continue its development. We are delighted by the prospect of being able to bring more original musicals to Toronto and to help our Canadian writers see their work onstage locally, nationally and internationally.
---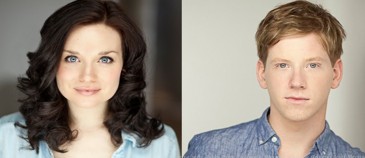 by Carly Maga
Last month, we announced our annual Syd & Shirley Banks Prize for Emerging Musical Theatre Artists winners, Alessia Lupiano and Graham Scott Fleming. These two emerging Toronto-based performers will be starring along side our cast of powerhouse Canadian musical theatre stars at our annual UnCovered concert next week. 
Graham was recently chosen to star in an Off-Broadway Musical in New York City called Somewhere With You (Bleecker Company) which was chosen as a Next Link production in the New York Musical Theatre Festival. He was also seen spreading love and peace to 46 states on the National Tour of Hair the Musical (Classical Theatre Project/ Starvox Entertainment/ Prather Entertainment). Other Recent Credits Include: Gabe in Next to Normal, Roger in Rent, Princeton/ Rod in Avenue Q, Smudge in Forever Plaid (The Lower Ossington Theatre). On top of theatre, Graham has made a name for himself in the country music scene, where he currently has a song airing nationally.
Alessia  is a recent graduate from Sheridan Institute's Music Theatre – Performance program. She began her professional career at the Grand Theatre in London, Ontario playing the title role in Cinderella.  She spent most of the past year travelling around the States and Canada singing "Turn Back, O Man" in the National Tour of Godspell (Moonglow Productions/Drayton Entertainment/VPP).  Other selected credits include Suzy in The Marvelous Wonderettes (Port Hope Festival Theatre), Shelley in Bat Boy (Black Sheep Theatre), and, most recently, as a Bunny/Crooner in Hugh and I (Bad Neighbour Prod).  Upcoming: Jamine in Aladdin (Port Hope Festival Theatre/Empire Theatre).
Our Audience Engagement Manager, Carly Maga, sat down with Alessia and Graham to pick their brains about UnCovered: Bill Joel & Elton John. 
Carly Maga: What songs will you be performing, and who will be singing with you?
Graham: I will be performing a mash-up of Billy Joel's "Just the Way You Are" and Elton John's "Don't Go Breaking My Heart" with Alessia. I will also be performing with Jake Epstein on Elton John's "Mona Lisas and Mad Hatters." 
Alessia: Along with performing with Graham, I'll be singing "For the Longest Time" with Kelly Holiff and Sara Farb. I'm a lucky lady. 
CM: Were you fans of Billy Joel and Elton John before working on this concert?
Graham: I was for sure a fan of both! I have been listening to their music for as long as I can remember. This night is going to be incredible.  
Alessia: Yes. So, so much.  I went to their Dueling Pianos concert a few years back and was in the very last row of the Air Canada Centre.  Even still, it felt like pure magic seeing both men on stage together.  It's an experience I'll never forget.
CM: What have you learned by approaching these songs with a musical theatre angle?
Graham: It's very interesting to see the emotional depth behind the lyrics. These songs aren't just words with a melody; these musicians have created characters and stories.  
Alessia: Musical theatre is definitely my background so I was thrilled to come at these songs from that medium.  Having the opportunity to create a storyline and follow through with it is incredibly rewarding to me.  I've loved the chance to put these songs together and collaborate to create characters from what the lyrics and music are telling us.   
For a sneak peek at this year's UnCovered concert, watch a video of Sara Farb and Kelly Hollif performing Billy Joel's "She's Always a Woman to Me" at actingupstage.com now.
---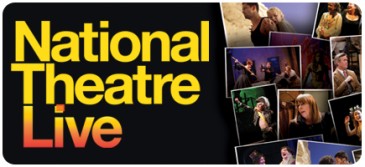 by Ari Weinberg
I've never been a huge moviegoer. Live theatre has always been my preferred entertainment medium. However, I've recently become addicted to a new experience that combines movie-going and theatre- it's called The National Theatre Live. 
According to their website (www.ntlive.com),"National Theatre Live is the National Theatre's groundbreaking project to broadcast the best of British theatre live from the London stage to cinemas across the UK and across the world." The initiative started in 2009 and has broadcast over 20 productions since then. 
I've attended their screenings of Fela, The Magistrate, King Lear, The Curious Incident of the Dog in the Nighttime, One Man Two G'uvnors, Medea and Frankenstein.
Going to a National Theatre Live screening is a pretty terrific theatre-going experience. They usually start with a short documentary that introduces the creative team and key players in the piece about to be screened. If the play has two acts there is an interval with a clock that counts down on the screen and there is usually a brief interview with someone involved in the production before the second act begins. Basically, the screenings provide a taste of the creative process and what goes on backstage while getting to view the production. Sometimes the National Theatre will also broadcast the works of other companies; they recently produced the screenings of the Young Vic's modern dress production of A Streetcar Named Desire starring Gillian Anderson and the Broadway production of Of Mice And Men starring James Franco and Chris O'Dowd. 
The National Theatre isn't the only company with broadcast initiatives. The Royal Shakespeare Company, the Metropolitan Opera, the Bolshoi Ballet and the Royal Winnipeg Ballet also screen their productions in cinemas across the globe. These broadcasts provide incredible opportunities for arts enthusiasts to see critically acclaimed work from companies around the world in the comfort of their local movie theatre. 
Last winter, while working in Winnipeg, I caught the screening of the Royal Shakespeare Company's Richard II starring David Tennant.  As a Shakespeare lover, the experience provided me an affordable way to catch this stellar production and served as a great introduction to the work of the RSC. I've visited their website (www.onscreen.rsc.org.uk) to add future screenings into my calendar. 
Closer to home, the Stratford Festival recently announced that they will be broadcasting several of their productions every year with the hopes of eventually showing the entire Shakespearean cannon. This season, they filmed King Lear, Antony and Cleopatra and King John and will show them in theatres in 2015. 
For musical theatre lovers, there have been a handful of broadcasts. Last year, the Menier Chocolate Factory screened its lauded production of Merrily We Roll Along. Recently, the London production of Billy Elliot was screened in theatres across the UK with North American dates to be announced shortly. One can only hope that this will start a trend of other musical broadcasts to follow. For limited engagement productions or productions that won't tour, it would be a wonderful way to share the experience with audiences abroad. 
The best way to find out about up and coming theatre, opera and dance screening is by visiting the Cineplex website.
---