Friends of Acting Up Stage
---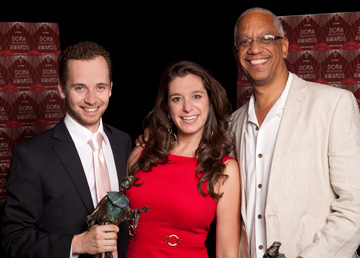 The Dora Awards. A night of glitz, glamour, and much hype. The St. Lawrence Centre was all decked out, Front Street was partially closed for the after party, and much of the Toronto theatre community came out dressed to the nines.
This year, "Toronto's version of the Tony's", as some have described it, celebrated its 33rd anniversary. The night was full of shenanigans, seeing the host of the night (Acting Up Stage veteran Thom Allison, fresh off a recent Broadway run in Priscilla Queen of the Desert) poke fun at the Toronto entertainment scene. There was much song and dance, and even a video segment of the evening chronicling the sometimes outrageous utterances of Toronto performers entitled "Sh*t Theatre People Say". 
All of these interludes are of course not only meant to celebrate and show off our wonderful and diverse entertainment scene, but also to add anticipation and excitement for the evening's main event: the announcement of the Dora recipients. As Acting Up Stage was nominated for 11 Doras (10 for Caroline, or Change and 1 for Ride the Cyclone), the excitement was definitely at a boiling point in our cheering section! In the end, we came away with 5 wins out of a possible 7 (as some of our nominations were in the same category) including Outstanding Musical Production for Caroline, or Change.
Arlene Duncan, who won a Dora for playing Caroline Thibodeaux in Caroline, or Change, and Reza Jacobs, who received a Dora for Outstanding Musical Direction, also for Caroline, sat down with us to describe their experience.
---
Is this your first Dora nomination? Your first win? 
Reza: Yes, on both counts [but] I've been [to the Doras] once before, the year [Acting Up Stage's] A Man of No Importance was nominated.  
Arlene: I've been in four Dora award-winning musicals in my career, but this is my first individual nomination and win — so it's all quite exciting! I've been to the Doras three times, [two of the] times we also performed as part of the show.
How does it feel to win a Dora? 
Reza: It's humbling and affirming at the same time. My overriding feeling that night was gratitude for everyone involved with Caroline, or Change. The entire experience of mounting that show was a gift from the universe. 
Arlene: You know all those people who say 'It's just an honor to be nominated"? Well, it really is! I can't repeat often enough, how much of a joy it was to just be part of such a magnificent piece of theatre. I've spent the last while working in film and television, and it has been quite a few years since I've been on the stage. To have my work be so well received and acknowledged in this way by my peers is beyond amazing. To be nominated was thrilling…to win was beyond my imagination!
What was the most inspirational speech you heard at the ceremony, or the most inspirational moment?  
Reza: There was a special feeling of communion in the hall when Ravi Jain made us all shout "Joy!"   
Arlene: While most of the show was a complete blur before I won, I do remember being touched by Pauline McGibbon award-winner Ravi Jain's speech where he spoke of the JOY he experiences collaborating with fellow [theatre] artists.
Did you prepare a speech? Did you stick to your speech? 
Reza: In a sense I've been preparing the speech since day one of rehearsal!  We were blessed to have a generous, kind, and imaginative team across the board, so I have felt deep gratitude for every person involved. As time has passed, those reasons have become crystal clear in my mind. So I did not have a printed speech with me at the Doras, but I felt like I'd been practicing the speech for months because I felt so clear on why I was thankful to specific people.  
Arlene: I didn't sit down and write something on paper, (probably because I thought I'd jinx it), but I did think about who I would want to thank and why, because I wanted to speak from my heart and I pretty well stuck with that!
I need to touch on the infamous 'cut-off' music, and how it affects an artist on stage. What did you think of it? Did it cut you off? 
Reza: I didn't know we were fancy enough to have cut-off music. I loved it. It tried to cut me off, but I kept talking!  
Arlene: They definitely need to have a limit on speaking, as we are actors and some of us would stay on stage and thank everyone and anyone who had any kind of input in [our] careers and the show would go on well beyond the 3 hours it already did! So 'cut off music' is our friend. I'm pleased to say that my 'speech' was a respectable amount of time and I managed to be well within my designated 90 seconds and fortunately, I wasn't cut off!
Where will you put the statue? 
Reza: I am considering sending it to my mom. I was grateful and excited to win, but she was kind of adrenalized by the news and went into joy overdrive – though I wouldn't want it any other way.  
Arlene: My statue has an honored place in the living room on the fireplace mantle. 
In your opinion, why are the Doras important? 
Reza: It's great to have one night a year where the entire Toronto theatre community is together in one room. I think it has symbolic weight.  
Arlene: The Doras are a much needed and wonderful celebration of the Toronto theatrical community! It gives up and coming artists a standard to aspire to and puts a spotlight on artists, productions and new & established production companies that are making a mark on our theatre scene.
Describe your Dora experience in one word. 
Reza: Dirty. Kidding! My one word is humbling.
Arlene: Gratifying!
Thanks to both Arlene Duncan and Reza Jacobs for their time. Please note that this article has been edited for length and some answers have been shortened. 
---
Dear 'Friends of Acting Up Stage', As we prepare this newsletter for you, our office is buzzing with Caroline, or Change.
The cast has completed three intense and wonderful weeks in the rehearsal hall and have now moved into the theatre to put the finishing touches on the show. Without a doubt, the creation of Caroline, or Change has been one of the most rewarding artistic processes that we have ever undertaken, and I am very, very excited to have audiences see this deeply moving and profoundly beautiful show.
With all of the Caroline excitement, we have dedicated this entire newsletter to the show. We hope you find the articles enlighten your experience when you attend the performance this month.
See you at the theatre!
Mitchell Marcus
Artistic Producer
---