Friends of Acting Up Stage
---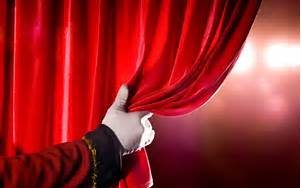 by Mitchell Marcus
Most people celebrate New Year's on January 1. But in the theatre world, for most companies, June 30 marks the end of a theatre season. As such, June tends to be our "December" – a chance for reflection and resolutions.
Looking back on 2014-2015 and thinking about the upcoming 2015-2016, here's what stands out:
Sometimes accidents are good. A year ago, we had completely different plans for 2014-2015 that did not include The Wild Party. We were still possibly going to return to the Daniels Spectrum for another year and we had a different musical in mind which ultimately fell through. Things could not have worked out better. We were delighted to return to the Berkeley Street Theatre where we spent 6 years from 2007-2012. And The Wild Party proved to be a triumph. A lucky turn of events indeed.
We have a wonderfully adventurous audience. Ballad of the Burning Star was a slightly scary endeavour. I was so taken with the work because of its bold theatricality and innovative use of music. But I was nervous by its history of protests due to its polarizing subject matter. However, the Toronto run proved to be a real success with thoughtful conversations happening during pre and post-show chats and robust attendance.
We love touring! In November we took our production of Do You Want What I Have Got? A Craigslist Cantata to the National Arts Centre in Ottawa. It was a delight to share our production with over 2500 attendees in our nation's capital. We love showcasing Acting Up Stage beyond Toronto and we hope to receive more invitations in the future to bring our work across Canada.
Toronto loves UnCovered. For me personally, this year's UnCovered: Billy Joel & Elton John was our strongest edition yet of this annual signature event. I will never forget the power of Brent Carver's "Rocket Man" or the immediate standing ovation that Jackie Richardson received for "New York State of Mind". Of particular note, this year marked an expansion to a second performance of UnCovered and we were so delighted to sell both shows out!
Our new musicals keep growing. By the end of this year we will have commission 6 original new musicals. We had a reading of one of them in New York this past year and have two readings this summer plus a workshop. As the momentum builds, I continue to be very excited by this new direction for Acting Up Stage Company, as we work with Canadian playwrights, composers and lyricists to bring their original works to life.
We have a very exciting 2015-2016 year planned. So far we've announced our November UnCovered concert as UnCovered: Simon & Garfunkel featuring the amazing catalogue of Paul Simon that he performed on his own and in collaboration with Art Garfunkel. As well, UnCovered will now be presented for three performances at the glorious Koerner Hall. What else do we have planned? We can't reveal it yet, but here are some clues for two major events:
What musical won three Tony Awards in the first decade of the 21st century and has never been seen in Toronto? That musical will be onstage at the Berkeley Street Theatre Downstairs in February/March.
What major Toronto arts institution would serve as an inspiration for stories for new musicals while also being an unusual, but terrific, performance space? Look for a new partnership with that institution to bring new musicals to life next Spring.
Stay tuned for all of the exciting details!
---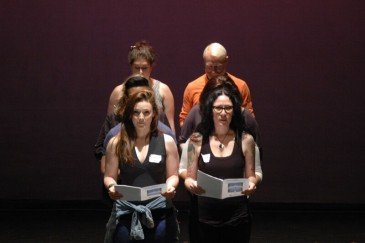 By Victoria Barber
Our second annual Take the Stage event took place on May 31st at the Winchester Street Theatre. Five teams came together to raise funds for our musical productions, new musical development initiatives, community outreach activities, and to participate in a musical theatre competition extravaganza. Each team consisted of 10-15 passionate musical theatre performers from various backgrounds. We had three community theatre groups (Scarborough Musical Theatre, Etobicoke Musical Productions, and The R.A.T (Really Amateur Theatre) Pack), one school group (Sheridan Music Performance), and one team made of the general public.
When each team arrived they received a well-known musical theatre piece and 2 star studded theatre professionals:
Tara Litvack & Thom Allison  worked with Team Sheridan on 'Being Alive' from Company
Doug Price & David Lopez worked with Etobicoke Musical Productions on 'Pinball Wizard' from Tommy
Lily Ling & Michael Therriault worked with Scarborough Musical Theatre on  'For Now' from Avenue Q
Mark Selby & Steve Ross worked with the R.A.T Pack on 'Without Love' from Hairspray
Noah MacDougall & Lisa Horner work with the Public Team on 'What I Did For Love' from A Chorus Line
And off they went! Each team had 4 hours to learn brand new material with complicated harmonies and intricate staging. The Winchester Street Theatre was buzzing with musical theatre excitement as each team worked with their trainers to master their given song in hope of winning the Spotlight Award.
After 4 hours of hard work, each team showcased their work to our judges (Daniel Birnbaum, Derrick Chua, and Carly Maga).  After much deliberation, Etobicoke Musical Productions won the Spotlight Award for the second year in a row, along with complimentary tickets to UnCovered: Simon and Garfunkel!  
With the help of our participants we raised over $10,000!
 In order to participate, each team had to raise a minimum of $2000 and each public team participant had to raise $120. This money was generally raised through small donations of $10-$50 from friends and family of the participants. The R.A.T Pack fundraised over $2300; winning them the Fundraising Award along with complimentary tickets to see Mirvish's Titanic. 
After a fantastic day of performances, teams headed over to The Local Gest (a local restaurant on Parliament Street) for a celebratory drink with their trainers and teammates. 
Overall it was a wonderful day, filled with musical theatre, new friendships, and powerhouse performances. Take The Stage gives the Toronto theatre community a chance to connect with likeminded musical theatre enthusiasts and bridge the worlds of professional and amateur theatre.
We are so thrilled with this year's success, thanks to all who participated!
---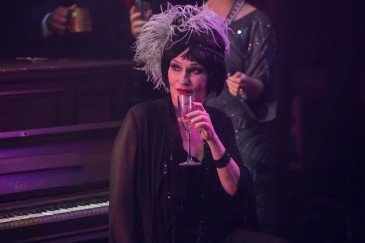 Interview by Carly Maga
You might remember that The Wild Party opened during the coldest week of this past winter – but everyone who caught the show knew that this was one hot cast. Now that awards season is upon us, we've had the great fortune to celebrate two Toronto Theatre Critics Awards and eight Dora Award nominations – all but three of them specifically honouring those talented performers.
Susan Gilmour, who captivated audiences as the powerful former prima donna Dolores Montoya, received a couple of special shout-outs; she won the 2015 TTCA for Best Supporting Actress in a Musical and received a Dora nomination for Outstanding Performance by a Female, Musical Theatre Division (alongside her cast-mate Cara Ricketts, who played Queenie), and shares the nomination for Outstanding Ensemble with her fellow 14 costars (Daren A. Herbert and Dan Chameroy also received individual nominations for their performances).
We asked Susan about her experience during The Wild Party and what it feels like to be acknowledged by the Toronto theatre community.  
Carly Maga: What did you love about playing the diva Dolores Montoya?
Susan Gilmour: Dolores was a wonderful challenge and stretch for me to play, in her huge aura, her physical stillness, her vocal range, and emotional journey. I love a juicy, fun, edgy role and I'm so thankful to Mitchell Marcus, Robert McQueen, and Bob Foster for giving me this opportunity to play Dolores!
CM: What was your favourite moment in the show?
SG: The show was FULL of favourite moments for me! I think if I had to choose only one, it would be the moment at the very end of the show when we are all standing together and Queenie (Cara Ricketts) is singing her final realization and walks through that door, full of light, and the door quietly closes leaving us in the dark…
CM: The whole ensemble is also being recognized at the Doras, what was it like working with this cast?
SG: It's absolutely thrilling that our whole show and everyone involved in The Wild Party is being recognized! Robert McQueen, Mitchell Marcus, Bob Foster and Stephanie Graham picked our amazing cast beautifully. A better or more talented cast I cannot imagine. Right from day one we ALL clicked, bonded, and supported one another on that wonderful journey into The Wild Party every day.  Performing each show and telling our story with everyone was exciting and such a joy! This is truly an ensemble show and we were all equally in it and for each other. All for one and one for all!
CM: What do you remember most about the whole Wild Party experience?
SG: I will always remember our brilliant director Robert McQueen and his clear detailed vision and thoughtful exploration and direction every day of The Wild Party.
I will never forget the thrill of meeting the co-writer and composer of The Wild Party Michael John LaChuisa. And I will never forget and will always carry with me every moment shared with each of my fellow colleagues… every look, every note, every kiss, dance and innuendo, every note sung and story told together. I hold so much love and respect for them all. Congratulations everyone!
The Dora Mavor Moore Awards will be presented on Monday, June 22, 2015.
---

Kinky Boots
See 2015 Banks Prize winner Graham Scott Fleming in the lead role in this Toronto sit-down production. Also, Acting Up veterans Lisa Horner and David Lopez (both seen in The Wild Party) grace the Royal Alex stage. 
Inspired by true events, Kinky Boots takes you from a gentlemen's shoe factory in Northampton to the glamorous catwalks of Milan. Charlie Price is struggling to live up to his father's expectations and continue the family business of Price & Son. With the factory's future hanging in the balance, help arrives in the unlikely but spectacular form of Lola, a fabulous performer in need of some sturdy new stilettos. 
Now on stage – The Royal Alexandra Theatre, Toronto – mirvish.com or 416-593-4142
---

The Stratford Festival: Carousel and The Sound of Music
There is plenty of former Acting Up Stage talent in the musicals currently playing at the Stratford Festival: see 2013 Banks Prize winner Alexis Gordon as the lead in Carousel, as well as Glynis Ranney (Falsettos), and Alana Hibbert (Caroline, or Change), in both Carousel and The Sound of Music. 
Also, an honourable mention must go out to Sara Farb (UnCovered concerts and NoteWorthy book writer) for her starring role in The Diary of Anne Frank.

The Sound of Music: Overflowing with such beloved songs as "My Favorite Things" and "Climb Ev'ry Mountain," this heart-warming family musical tells an inspiring story of the discovery of love – and a daring bid for freedom.
Carousel: Far ahead of its time in confronting the issues at the heart of a troubled relationship, this wrenching musical drama features a luscious score that includes "You'll Never Walk Alone," "If I Loved You" and "June Is Bustin' Out All Over."

Festival concludes November, 2015 – The Stratford Festival, Stratford – stratfordfestival.ca or 1.800.567.1600
---

The Shaw Festival: Sweet Charity and Peter and the Starcatcher
Acting Up Stage's Music Director from Parade, Paul Sportelli, shows off his musical prowess in Sweet Charity, and alumnus Shawn Wright (Caroline, or Change) acts his heart out in Peter and the Starcatcher.
Sweet Charity: Experience the bold and colourful world of 1960s New York through the eyes of Charity Hope Valentine. The dance hall hostess dreams of a brighter future but she can't help but give her heart to all the wrong guys. Then she meets the meek but sweet Oscar Lindquist when they get trapped in an elevator. Could he be the man to change Charity's luck and take her off the market as a heart-for-hire? Cy Coleman and Dorothy Fields' bright music and dance numbers like 'Big Spender' and 'If My Friends Could See Me Now,' paired with a book by Neil Simon made this a Broadway hit when it premiered in 1966.
Peter and the Starcatcher: Imagine a creaking frigate with an orphan boy in its hold, a disguised pirate ship following in the distance and a trunk carrying stardust – the kind that could let a child float into the air or freeze him in time. A theatrical prequel to Peter Pan, this magical play takes you on a journey using the power of music and story-telling to chronicle the adventures of an orphan soon to be called Peter Pan, and Molly, a girl charged to protect a parcel of stardust from falling into the wrong hands. The Broadway production opened in 2012 and went on to win five Tony Awards delighting audiences young and old.
Festival concludes November, 2015 – The Shaw Festival, Niagara-on-the-Lake – shawfest.com or 1-800-511-SHAW
---
---

Once
Set in modern day Dublin, ONCE is the story of a Guy who gave up on his music—and his love—and the Girl who inspired him to dream again. This irresistibly breathtaking production is performed by an extraordinary all-Canadian cast of actor-musicians who sing, dance and play their hearts out live on stage.
Until May 31 – The Ed Mirvish Theatre, Toronto – mirvish.com or 416-593-4142
---

Spoon River
UnCovered past star Mike Ross takes the helm in this stunning musical. Not to be missed. Edgar Lee Masters' seminal poems of the dead are brought to vibrant life in this musical adaptation. Immerse yourself in the world of Spoon River, a slice of rural America, as residents of the town narrate their own epitaphs, telling of their lives, loves, losses, and truths.
Until April 2 – The Young Centre (Soulpepper), Toronto –soulpepper.ca or 416–866-8666
---

Mouthpiece
Written and performed by Theatre Ad Infinitum company member and performer in Ballad of the Burning Star Amy Nostbakken, Mouthpiece interweaves a cappella harmony, dissonance, text and physicality. Two performers express the inner conflict that exists within a modern woman's head: the push and the pull, the past and the present, the progress and the regression.
April 17 – May 3 – The Theatre Centre, Toronto – theatrecentre.org or 416-538-0988
---
---